Vauviex - Staircase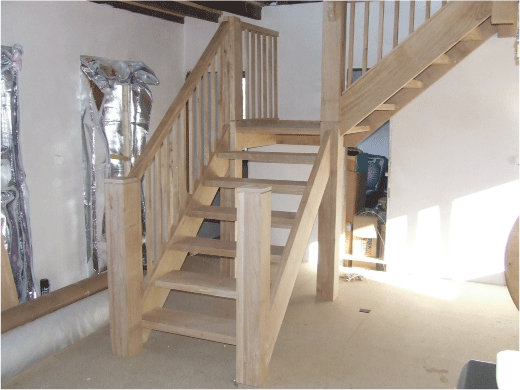 Commisioned to produce a solid oak staircase for a property located on the banks of Lake Vassiviere. The clients wanted a focal point. This staircase was constructed using 1000mm wide x 50mm thick treads. (no bounce for even the largest of people)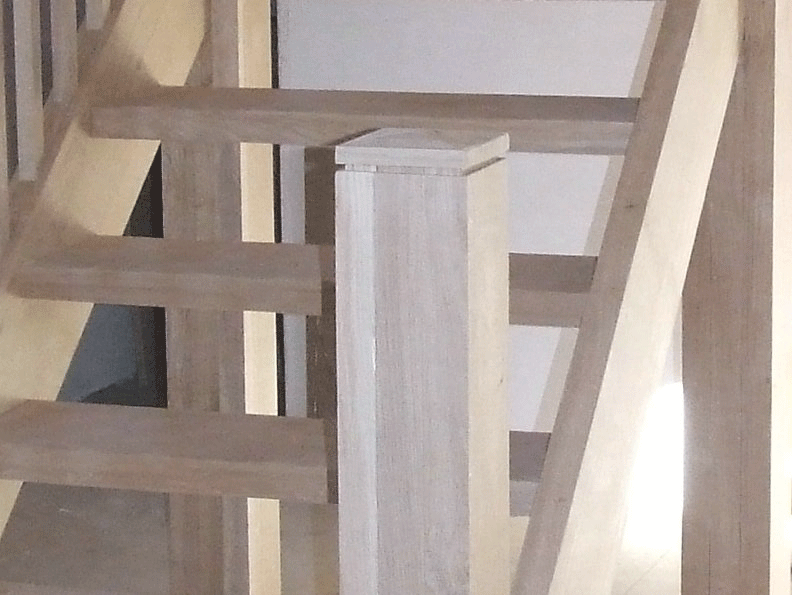 The newel posts alone were each 150x150mm. Shown here with partially installed banister rails. The staircace was installed and left un-varnished ready for the client to wax.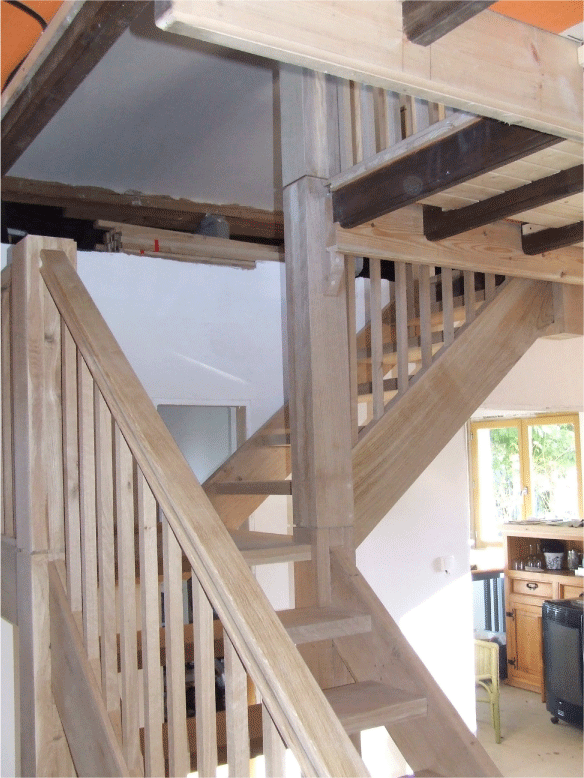 Vauviex - Doors

In addition to the beautiful staircase our client requested hardwood external and solid oak internal doors to match. Constructed to personal contemporary design these doors at the clients request were made from the hardwood moulingi which mellows to a rich ochre colour and is more economical than oak.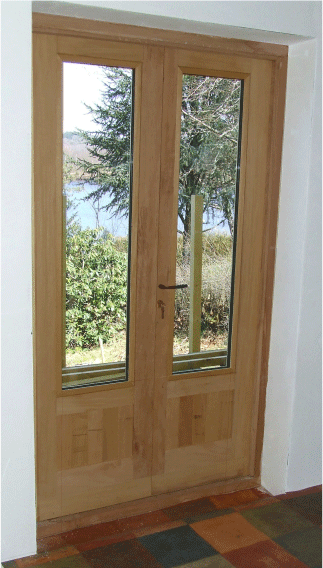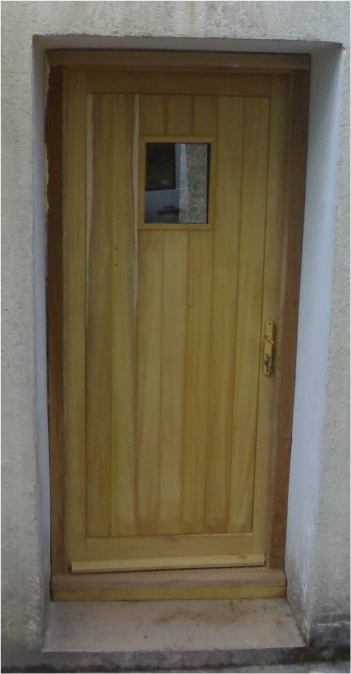 Pictured here is a 3/4 glazed double opening patio door, Stable Door and Solid Front Door.
Brigeuil - Staircase

Commisioned to produce two metre wide closed tread oak Staircases with Newel Posts and Handrails. The client had already sourced the banisters and just required us to install the stairs and newels ready for him to fix the banisters and handrails at a later date.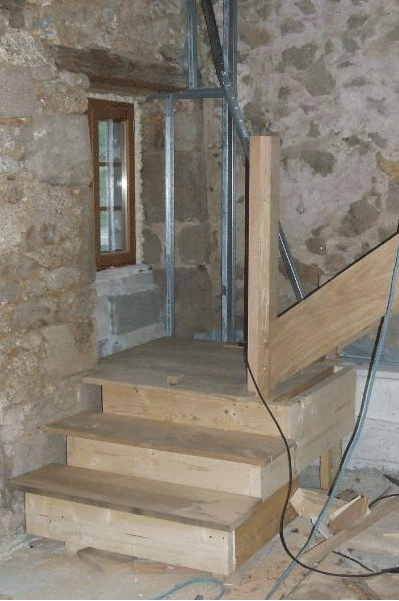 As you can see the ground floor staircase consisted of two sections incorporating a 90 degree right hand turn.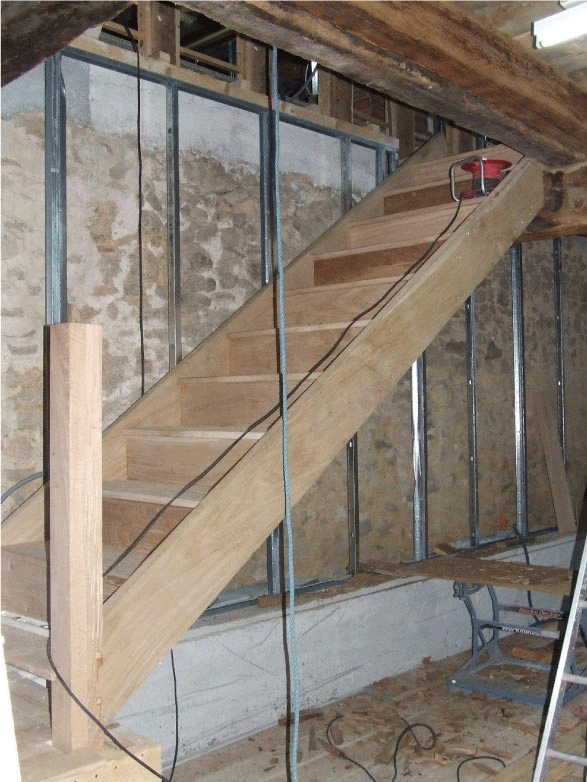 The staircase was installed allowing room for the plasterboarding to be fitting at a later date.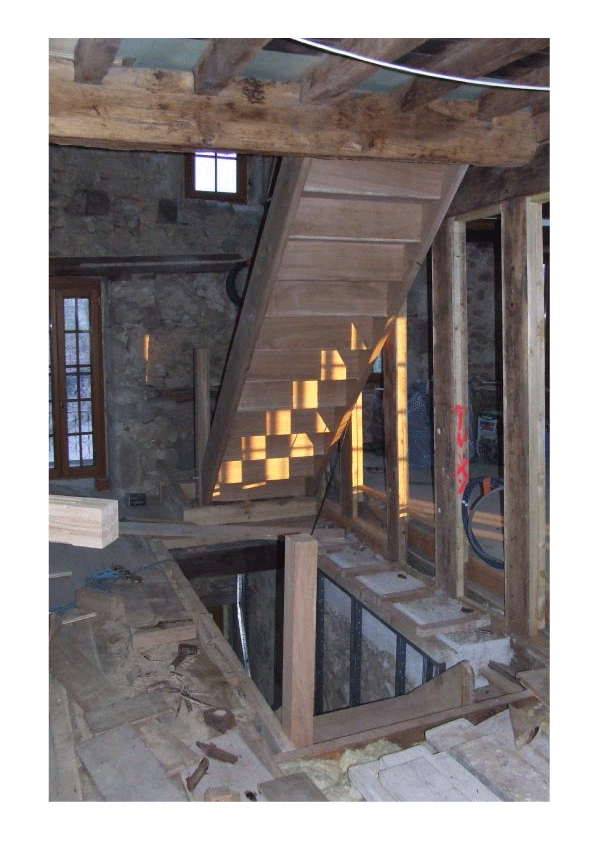 These staircases have now been seen by the clients friends leading to additional confirmed orders for windows and staircases.
Thank you to all concerned!
Chalus - Barn Opening

Commissioned to construct in softwood two infil windows to complement shop bought patio doors. The result was simple and yet stylish way of utilising the existing large barn door opening at an affordable cost to the client!
Poitiers - Drive Gates

Located at the end of a typical chemin, our client visualized some grand drive gates not only for security but for that 'we have arrived feel'. Not happy with the flimsy off the peg items you can readily buy, we were commission to build and install these beautiful Drive Gates. Made from solid oak they cannot fail to impress!